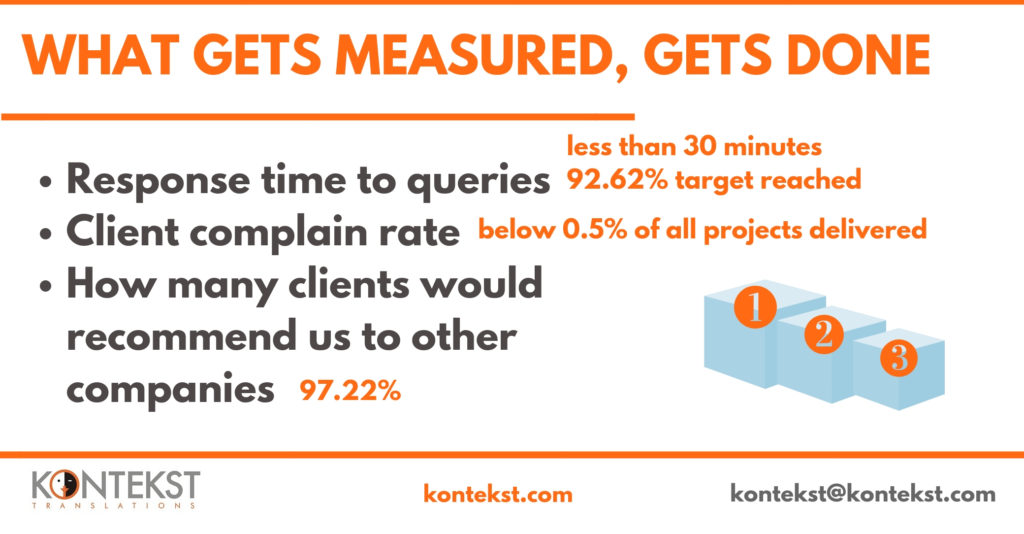 Crucial factors for clients in cooperation with a service company like ours is fast and clear communication and timeliness.
Our mission is to deliver complex multilingual language projects to our clients' full satisfaction. This includes quality control, fast communication and last but definitely not least on-time delivery.
Having discovered that response time remains below our customers' expectations (and our expectations too), we had to act resolutely and unconventionally in order to spot the weak point in our internal process and improve it.
A working group was established to identify the issues. An internal audit led to a definition and implementation of an entirely new process, relying on precise instructions for Customer Service Department.
A number of technical solutions was also implemented to support project managers and coordinators in organizing queries, prioritizing tasks and allowing a timely response. We set measurable targets and implemented a performance indicator (KPI), which turned out to be a true game-changer.
The difference is radical. After process modification KPI indicating response time improved by more than half and it reached 92.62%.%.
The key success factor for introducing this improvement was involving the very project managers who deal with our internal processes on a daily basis. PMs were responsible for modifications which will affect the relevant KPI and at the same time are attainable.
If you are looking for a trusted partner, contact us: kontekst_at_kontekst.com
We specialize in fast management of multilingual projects.